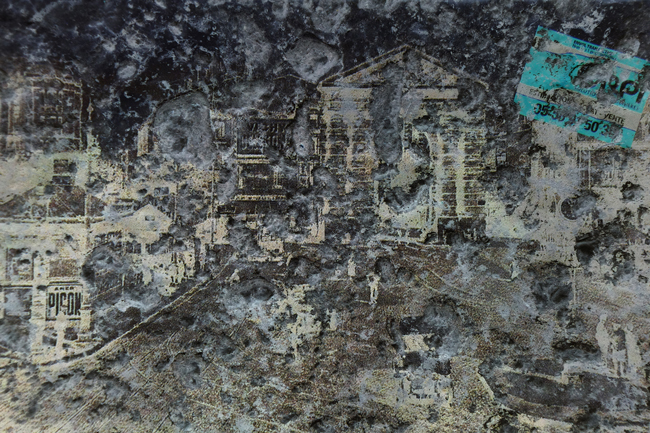 ONE MORE KISS, DEAR - Solo show - 5UN7, Bordeaux
"jeudi 12/05/16 est le début de One More Kiss, Dear. D'abord Amandine Pierné s'installe: il s'agit encore moins d'un accrochage, ne vous fiez pas à la déco; "Macadam" d'abord, la carte gaufrée par la chaussée, ici trouvée encore, l'invitation; alors six toiles, tableaux, dispositifs "sans titres" tressés d'emballage, à l'occasion, obstinément, ici miroirs impactés du hasard volontaire, six pièces tissées enfoncées çà et là, une lenteur affectée ponctuée d'évènements; plus ce qu'on y voit, le reflet d'en face, "One more kiss dear", un signal orange et vert fluo irradiant, composé en stores, eux-même composés en morse, rythmique géométrique de la désuète rengaine éponyme, signal trouble et insupportable qui s'adoucit mêlé à l'enchevêtrement d'argent plastique sur châssis, approche le jaune mordoré, pollen chaleureux; alors posé "Still Life", sur un morceau de bois une soupe primordiale et stable, et on voit grâce au miroir sur la bouteille la photographie de ce qu'on devine un oiseau, à travers les branchages, peut-être les mêmes que ceux que l'on pourrait envisager en regard, dans un pot sur autre pot, le petit arbre.
Maintenant à partir de jeudi 12/05/16, One More Kiss, Dear.
Amandine Pierné va mettre à l'oeuvre dans l'espace un protocole complexe, dévoilant à l'occasion l'ordre caché, et si nous saisissons l'une nous pouvons saisir l'autre. Son enchaînement "twist-entropique" d'œuvres aux mélancolies colorées devient le théâtre de son propre mouvement: un maintien en alerte de ses explosions suspendues et mouvantes, de longues attentes et des révélations soudaines: en laissant le passage du temps exercer un effet de porosité entre les choses, tissage au coeur duquel ses interventions, en pointes ou en douceur, vont altérant, ponctuer la période d'exposition, elle va laisser déployés "les dards obscurs de l'intuition, avec lenteur et circonspection, avec des embardées à droite et à gauche et de brusques retours en arrière". Peut-être qu'"il existe quelques configurations paradisiaques, qui voient le système se structurer, se stabiliser, ou même revenir sur ses pas. Mais ces configurations sont par essence extrêmement rares. Le désordre succède toujours à l'ordre. Il est impossible de remonter le temps", mais il est possible de repasser le film; il vous faudra donc repasser." Arnaud Coutellec pour 5UN7 "Thursday 12/05/16 is the beginning of One More Kiss, Dear. First Amandine Pierné settles: it is even less of a collision, do not rely on the decor; "Macadam" first, the map embossed by the pavement, here found again, the invitation; then six canvases, paintings, devices "without titles" woven packaging, occasionally, stubbornly, here mirrors impacted by willful chance, six woven pieces pressed here and there, an affected slowness punctuated by events; more what we see there, the reflection of opposite, "One more kiss dear", a fluorescent orange and green signal radiating, composed in blinds, themselves composed in morse, geometric rhythmic of the old-fashioned eponymous rengaine, signal cloudy and insupportable that softens mixed with the entanglement of plastic money on chassis, approach the golden yellow, warm pollen; then put "Still Life" on a piece of wood a primordial and stable soup, and we see thanks to the mirror on the bottle the photograph of what we guess a bird, through the branches, maybe the same as those that one could consider facing, in a pot on another pot, the small tree. Now from Thursday 12/05/16, One More Kiss, Dear. Amandine Pierné will put into the work in space a complex protocol, revealing occasionally the hidden order, and if we grasp one we can grasp the other. His "twist-entropic" sequence of works with colorful melancholies becomes the theater of his own movement: a maintenance on alert of its suspended and moving explosions, long waitings and sudden revelations: by allowing the passage of time to exert a porosity between things, weaving at the heart of which its interventions, tips or soft, will alter, punctuate the period of exposure, it will let "the dark darts of intuition, slowly and cautiously, with lurching to right and left and abrupt reverses ". Perhaps there are some paradigmatic configurations that see the system structure itself, stabilize itself, or even retrace its steps, but these configurations are inherently extremely rare.The disorder always succeeds the order. to go back in time ", but it is possible to replay the film; you will have to go back. " Arnaud Coutellec for 5UN7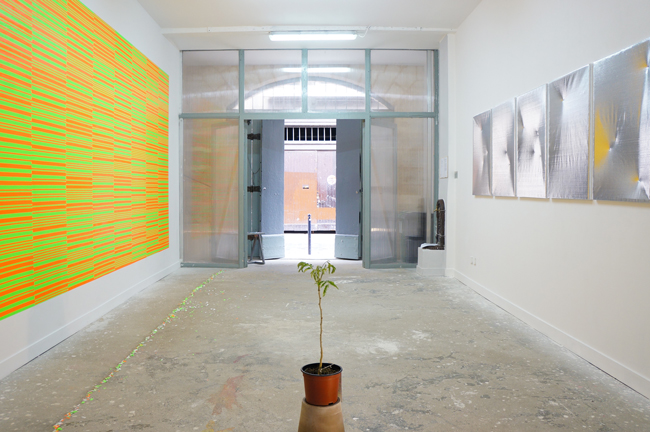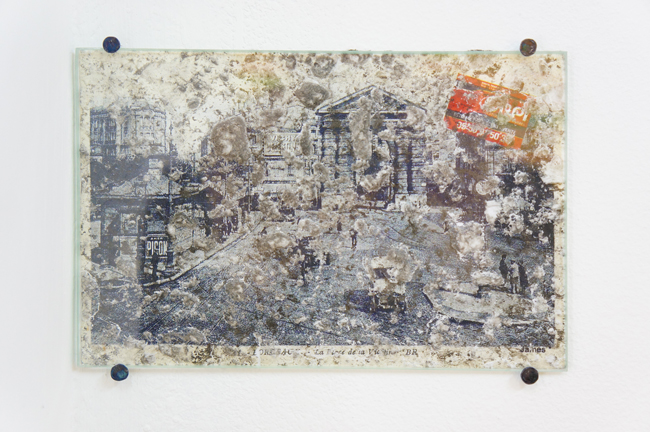 ONE MORE KISS, DEAR / MACADAM, Carte publicitaire trouvée, 10 x 15 cm. 2016 Advertising card found, 10 x 15 cm. 2016>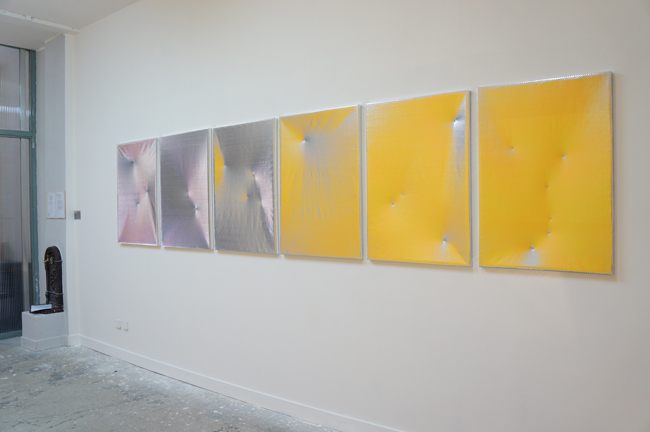 ONE MORE KISS, DEAR / SANS TITRES 1-6, Polypropylène miroir tissé main et oeillets, châssis bois, 70 x 100 cm chaque. 2016 Mirror polypropylene hand woven and eyelets, wood frame, 70 x 100 cm each. 2016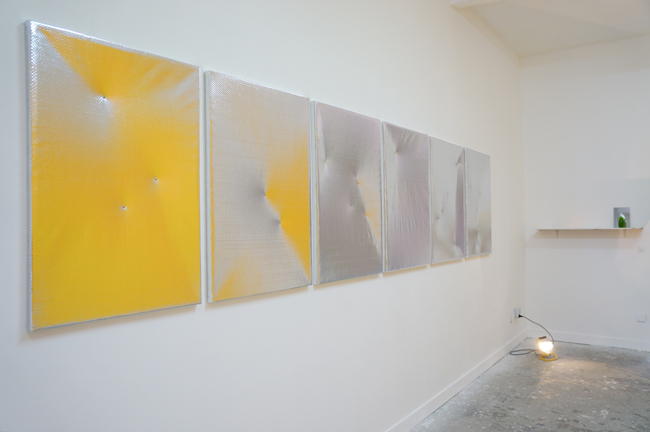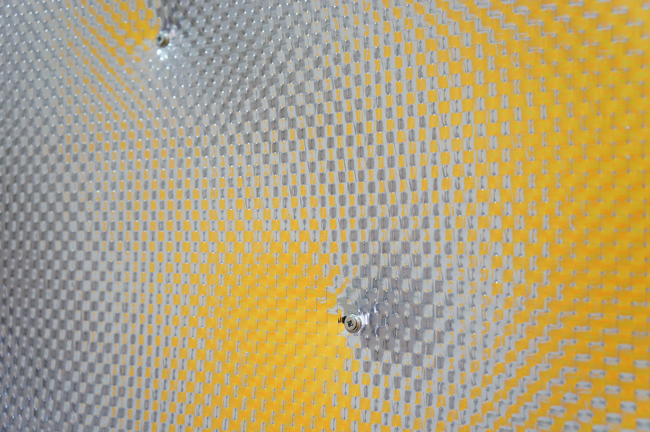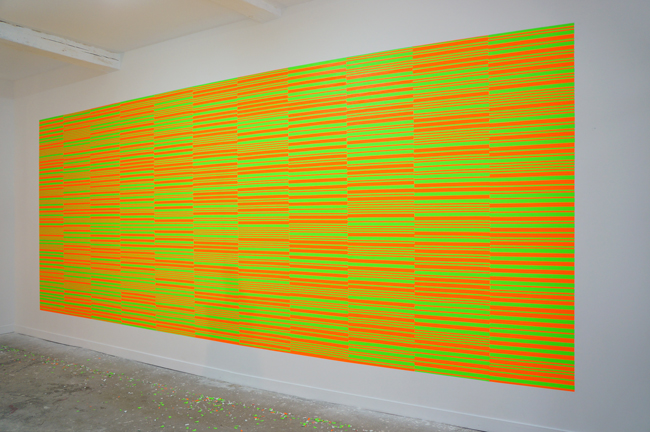 ONE MORE KISS, DEAR / ONEMOREKISSDEAR, Intervention murale. Papier d'affichage vert et orange fluo, traduction en morse des paroles de la chanson éponyme, 251,5 x 660 cm. 2016 Wall intervention. Green and orange fluo paper, Morse translation of the lyrics of the eponymous song, 251.5 x 660 cm. 2016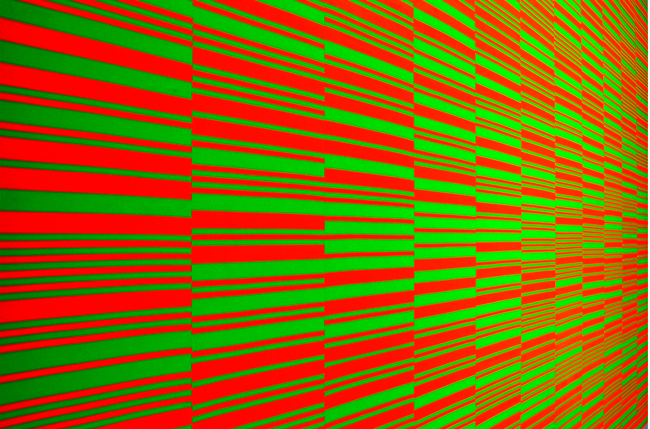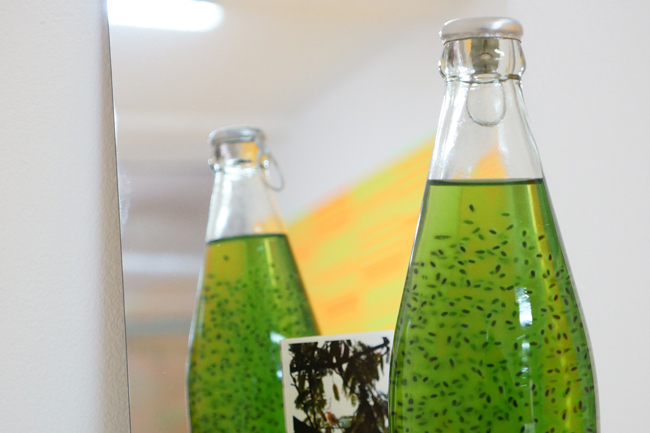 ONE MORE KISS, DEAR / STILL LIFE, Boisson, miroir, photographie d'un rouge-gorge dans un Albizia, Albizia. 2016 Drink, mirror, photograph of a robin in an Albizia, Albizia. 2016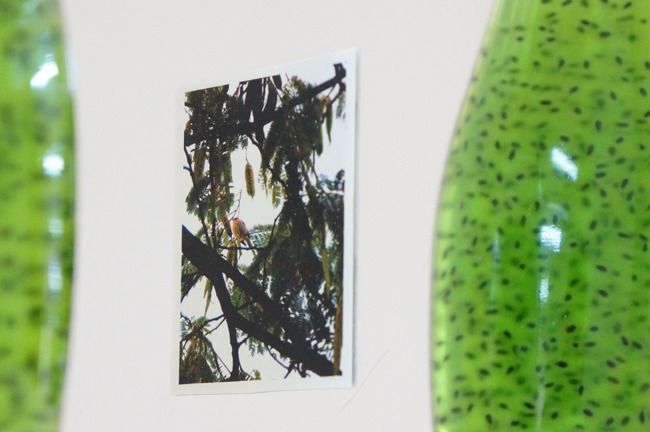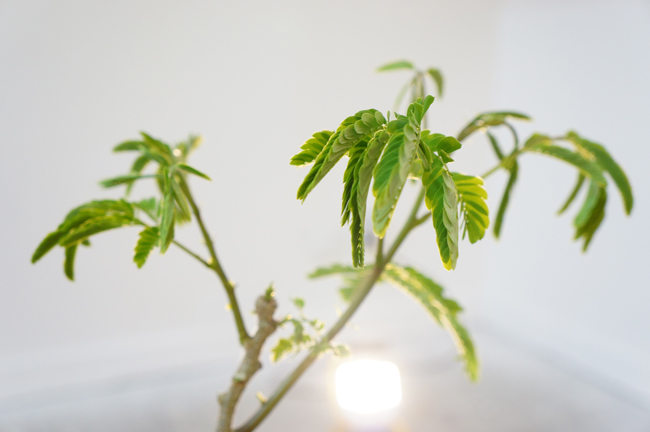 Dispositif d'éclairage complémentaire programmé par minuteur suivant le principe du silence radio, deux périodes de 3min d'extinction par heure à h+15 et h+45. Timer-programmed supplementary lighting device according to the principle of radio silence, two periods of 3min of extinction per hour at h + 15 and h + 45.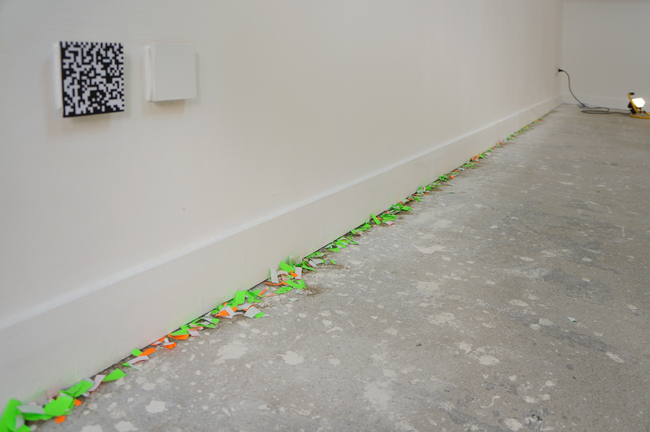 ONE MORE KISS, DEAR / BALAYAGE, Gif animé. Performance réalisée le 18/05/16 entre 15h11>18h38.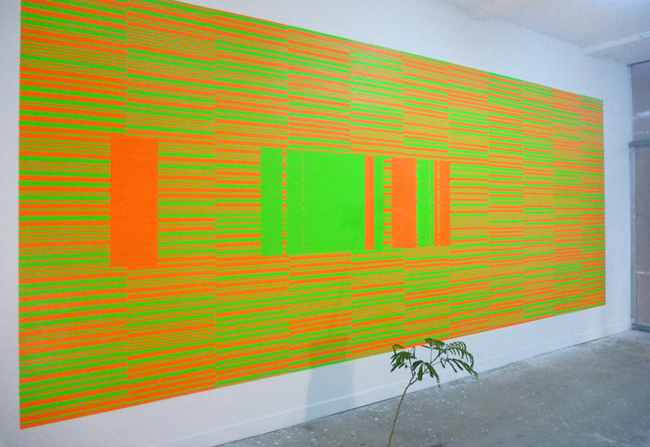 ONE MORE KISS, DEAR / AYMARA, Série d'interventions, chutes de papier fluo vert et orange. 2016 / Interventions réalisées progressivement destinées à faire évoluer de manière picturale les dispositifs-toiles placés en regard en sacrifiant une partie du mural-message, de faire réapparaître de manière identifiable les couleurs fondues jusque-là sous forme de jaune. Series of interventions, falling green and orange fluorescent paper. 2016 / Interventions made progressively intended to evolve in a pictorial way the devices-paintings placed opposite by sacrificing a part of the wall-message, to reappear in an identifiable way the colors melted until then in the form of yellow.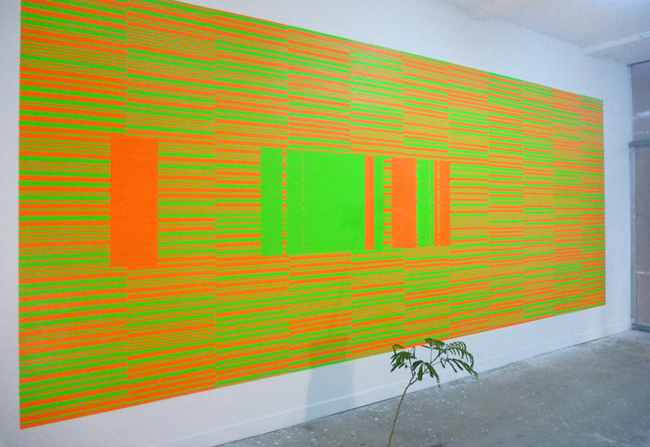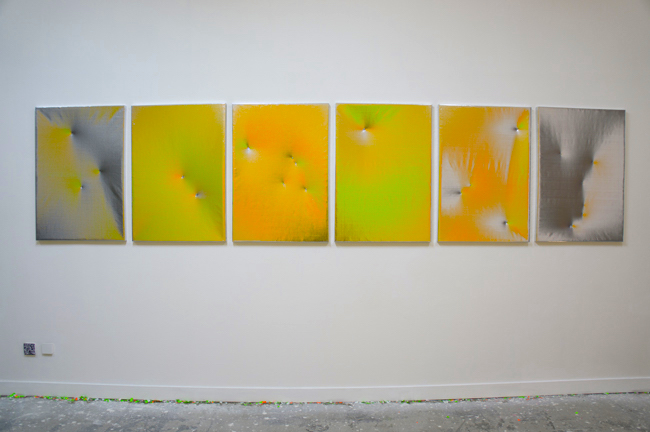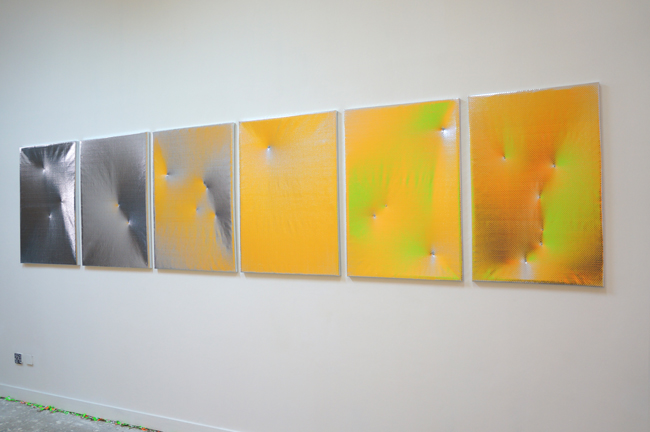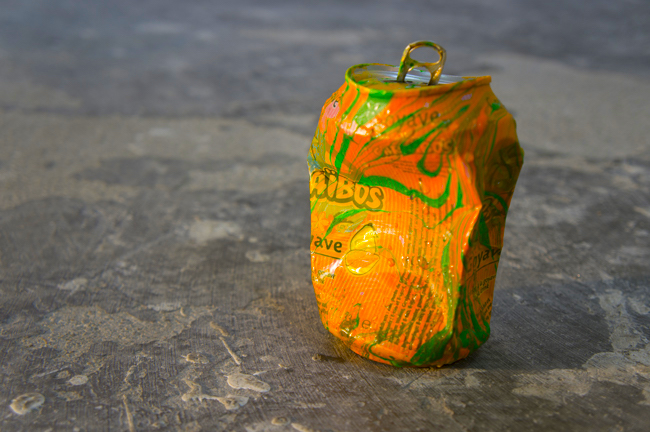 ONE MORE KISS, DEAR / PRODUITS DÉRIVÉS, Canette et bouteille, hydropaint. 2016 Can and bottle, hydropaint. 2016
ONE MORE KISS, DEAR / BACK'S BIRD